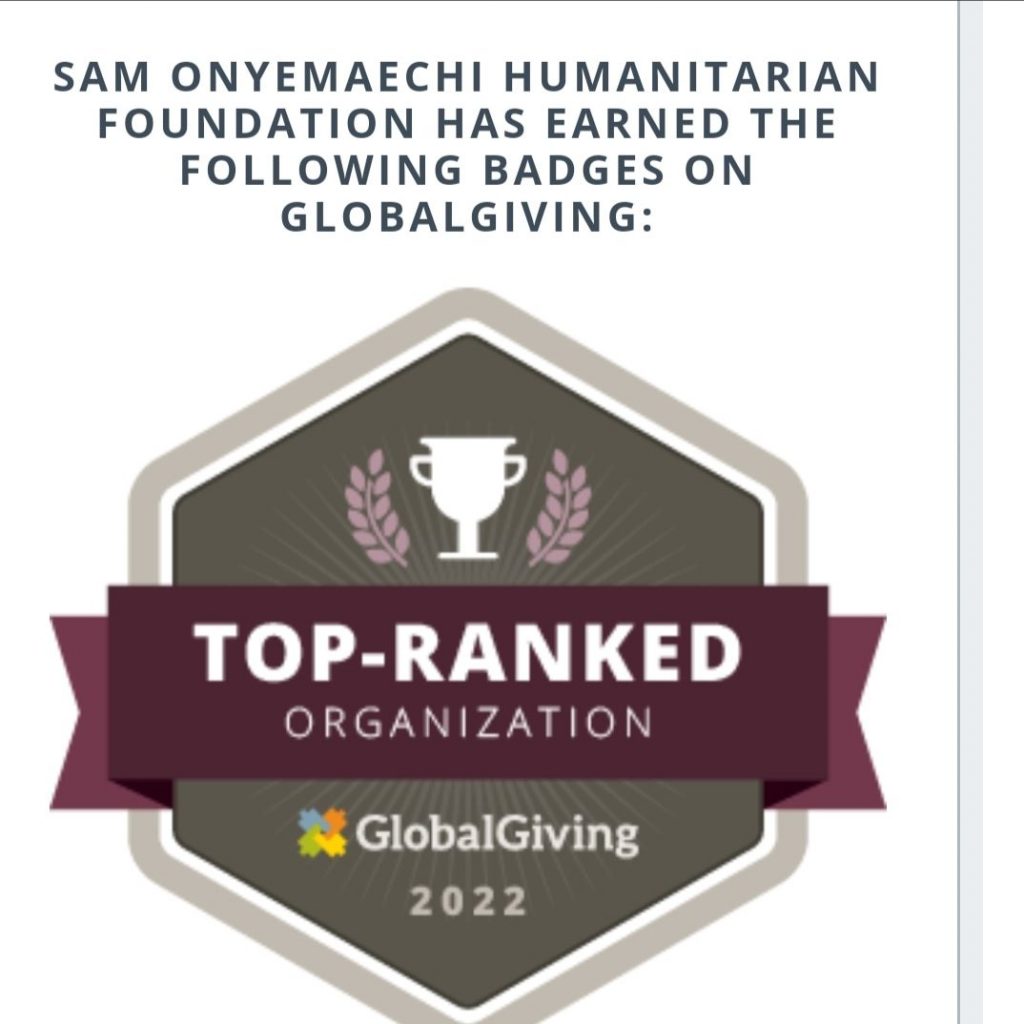 Sam Onyemaechi Humanitarian Foundation is a Divine oriented and providential foundation. It was founded on the 29th of March, 2012. Officially registered as a non-government entity on September 7, 2017. We joined GlobalGiving community as a permanent member in May 29, 2021. GlobalGiving is one of the top charities in the US.  We are an operational NGO, meaning we plan and carry out boots-on-the-ground projects to accomplish our objectives. We have constituted ourselves as an association, have established articles of association, and, with legal headquarters domiciled in Imo State of Nigeria and our branch office in Lagos State of Nigeria, locally have been registered and obtained tax Identification Number (TIN) from the Federal Inland Revenue Service (FIRS) tax authorities in Nigeria. Sam Onyemaechi Humanitarian Foundation is a member of the World Association of Non-governmental Organization (WANGO). We are working assiduously as an organization to be formally recognized globally as a (501) (c)(3) organization.
On 27th January 2021, the operational focus was on Education, building infrastructure, Healthcare services, restoring hope to the Vulnerable, training volunteers, and project work. Sam Onyemaechi humanitarian Foundation's primary focus is in Imo State and extends its tentacles to some rural communities in Ogun State.
My visit in 2011, to some rural communities in Imo State and some part of Ogun State, made a lasting impression on me. The open-mindedness and joy of the people are arousing. However, I also took home some negative impressions – the poor living conditions of the people in the slums, the begging children in the city, the daily struggle for the survival of the rural population. These impressions have stuck with me to this day, I had a reminiscence of my school days when all hope seemed to have been lost but God raised me up in my turbulent situation and restored hope in me.
The decision to help these Vulnerable people and its inhabitants came only one year later. After I had enough time to digest and filter what I had experienced, my first thought was to see how we can alleviate the poverty-stricken communities. That is why I decided to go along and more innovative pathway, and I began to study the rural population in order to improve communal living conditions. I subsequently concluded to deal more intensively with the basic needs of the Communities. I was predominantly concerned with the question of what is needed to improve the quality of life of the rural communities?
Sam Onyemaechi Humanitarian Foundation now pursues this goal in a variety of ways. We subdivided our projects into six different project groups: Construction & Renovation, Water, Economy(Agriculture), Empowerment scheme, Education and Health-care services. It is extremely important to us to realize projects in harmony with the customs, religion, and ideas of the local population because my preferred mantra and credo remain one of sustainability. Although this fashionable term has already been embraced by many, and for a thousand times, few people are conscious of how sustainability describes a concrete principle for action in the efficient use of resources.
It is our vision to purchase enough hectares of land where we can build Ultra-Modern Multi-purpose hall, old peoples rehabilitative care home, Nurses and Doctors quarters, administrative Block, Visitors Lodge, Orphanage home, purchase massaging machines, medical equipment, ambulance, truck, equipment for food production, processing and packaging etc. At the meantime, we have been partnering with a company that is costing us a huge amount of money.  the main focus will be on raising funds, thereby using a more structured approach, allowing us to grow. It is our belief that before 2025 all our prospects will be actualized.
Furthermore, we are constantly supporting smaller projects, aiming to improve the quality of life of individuals or their entire families with this micro-project approach and help shape the selected villages of both communities we are working on. We will largely implement these projects with moderate financial resources (USD 100 – USD 2000 per project). We believe that sustainable development is, however, only possible if all parties involved work closely together and have the same goal in mind.
Large goals can only be achieved together, which is why I am convinced that networking is indispensable. We have already set up respectable teams in order to implement challenging and extensive projects with these outstanding and loyal co-workers. In order to be able to meet the basic needs of the local population, the following questions arise: What strategies have we implemented to see that the poor, Vulnerable, and insane are properly taking care of by the organization? How can we solve water problems during times of drought If no external aids are forthcoming as expected? to what other means can we employ to make sure that the Organization is moving forward? How can farmers be aided to multiply their crop yields? Another question is, how can we advance into remote areas of Imo State in order to guarantee a basic education there considering the rate of dropouts of school children?
 In seeking answers to the frequently raised questions, it is only through a concerted intra-continental coalition of all countries that problems like those occurring in some rural communities (below-average life expectancy, educational inequality, above-average illiteracy rates) can be addressed.
Sam Onyemaechi Humanitarian Foundation believes in the transformation of lives and development of communities and to see the quality of lives transformed, championing social reforms for better living conditions. We adopt a holistic approach in providing healthcare and rehabilitative care services to people, bringing succor to the less privileged through financial aid with the help of friends to start small-scale businesses, providing scholarships to indigent students, and aiding skills development in the communities. All these and many more were voluntary work. Humanitarian services to mentally deranged (Insane).
 Sam Onyemaechi Humanitarian's Community Empowerment Initiative is aimed at increasing access to social change and to support, through funding and volunteer assistance, the development of community-based projects with the ultimate purpose of creating a better life for the community.
Women empowerment initiative is dedicated to enabling women and Youths to enhance and develop their quality of life and become architects of their future by presenting opportunities for economic transformation, thereby strengthening families and transforming communities. Through a unique combination of loans and technical assistance i.e. Entrepreneurial Empowerment Initiative, Sam Onyemaechi Humanitarian Foundation reaches out to women and youths in various communities. We empower and educates youths using proven models or ideas through educational enlightenment programs; Computer training programs, workshop and seminars, skill acquisition programs etc., in order to advance youth for self-development and capacity building of the communities and nation. It is our primary mission to upgrade the quality of education and social benefits in vulnerable youths and to reduce unemployment.
Doubtless, education is the most powerful catalyst for social transformation. But child education cannot be done in isolation. A child will go to school only if the family, particularly the mother, is assured of healthcare and empowered. Moreover, when an elder sibling is relevantly skilled to be employable and begins earning, the journey of empowerment continues beyond the present generation. Our objective is to offer good qualitative education, total family care and rekindle hope for their creation; thereby reintegrating them back into society as resourceful citizens.
Hence, collaboration in organizations brings with it potential benefits. There is a need for synergy. We believe that the sum of the whole is bigger than the sum of each part. Working together collaboratively can result in greater accomplishments as compared to each organization working on its own separately. It helps in problem-solving, brings people (and organizations) closer together, it also helps people learn from each other, opens up new channels for communication, and boosts morale across your organization.
It is our vision to motivate the local population to actively participate in the design of our projects and to create a future that can make everyone happy in the long term. To help the less fortunate step-by-step in building an autonomous and more secure future. To build progressive self-reliance communities and provide healthcare/rehabilitative care services. All these require a great deal of careful planning, communication, and local involvement for each project. Our core values: Involving people, applying knowledge and making things happen. Our mission is to prolong the healing mission of Christ. Christ, while on earth went about doing good. We collaborate with top charities in the US.
Projects To Embark On
This foundation seeks; to build progressive self-reliant communities, adopting a holistic approach by providing services in healthcare and rehabilitative care, bring succour to the less privileged through financial aid to start small scale businesses, providing scholarship scheme to indigent students, and aid skills development(entrepreneurship).